Boeing Plaza Hosts WomenVenture 2023 Group Photo
July 28, 2023 – Now in its sixteenth year, WomenVenture, a week-long social and networking event for women during EAA AirVenture Oshkosh, attracts thousands of women who are part of the aviation community and gather to be inspired, to network, and to have fun together at the Oshkosh airshow. Women in Aviation International (WAI) kicked off WomenVenture Wednesday with WAI's annual WAI Connect Breakfast followed by the WomenVenture annual group photo on Boeing Plaza with thousands of women in attendance.
The backdrop for this year's photo, during EAA's 70th AirVenture, was the Boeing Dreamlifter operated by Atlas Air.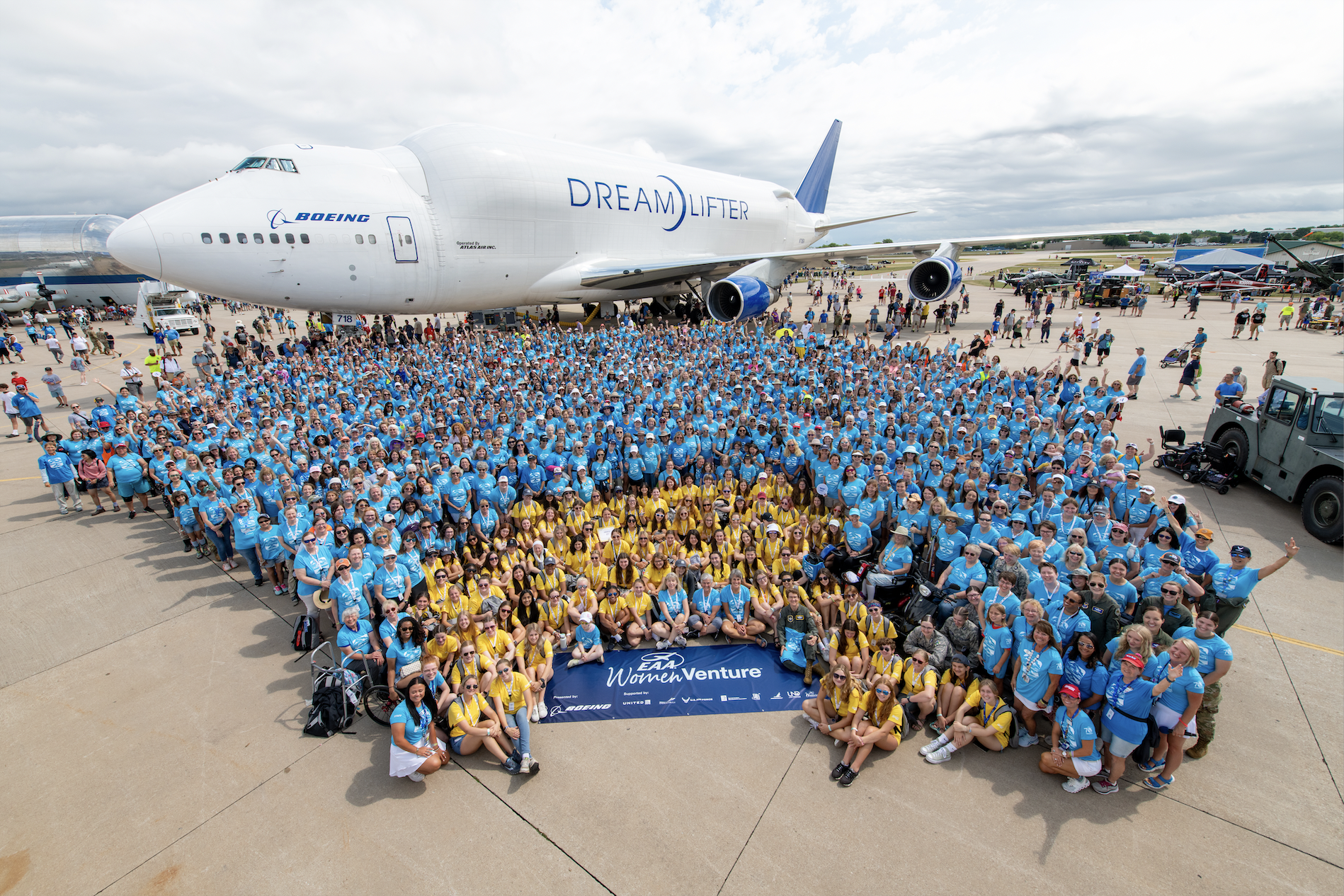 WAI's Connect Breakfast, sponsored by Avemco and United Airlines, was attended by over 350 enthusiastic participants, whose passion could not be washed out by strong thunderstorms and rain. Royal Shoen, a general aviation advocate and an aircraft owner with commercial and instrument certificates, shared her inspiring story and encouraged young women to pursue their aviation dreams.
During the week-long #OSH23, WAI hosted a panel discussion on "Inspiring Tomorrow's Female Aviator" and met with hundreds of new and current members at both WAI booth locations in Hangar B-2041 and the WomenVenture Center.
"It was a very busy and productive week for WAI during EAA AirVenture Oshkosh highlighted by our successful Connect Breakfast and numerous meetups with our members and allies," WAI Interim CEO Stephanie Kenyon said. "The WAI team and enthusiastic volunteers had a fantastic week connecting with members and encouraging them to join a WAI Chapter near them, get a mentor or be a mentor with WAI's new Mentor Connect program, apply for WAI's upcoming round of scholarships (the value of which is nearing $1M), and join in the inspirational Girls in Aviation Day events on September 23, 2023."